Even in difficult economic times, NASCAR often has a higher weekly attendance than other major sporting events. But its beginnings had nothing to do with attracting fans.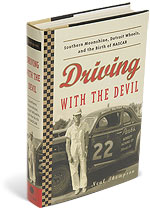 In Neal Thompson's book Driving with the Devil: Southern Moonshine, Detroit Wheels and the Birth of NASCAR, he describes the forerunners of the sport as "a bunch of motherless, dirt-poor Southern teens driving with the devil in jacked-up Fords full of corn whiskey." Those first drivers had a clear purpose: to outrun the authorities. It wasn't a spectator sport.
Neither is the Christian life. While our works do not save us—only God's grace does that—James reminds us that faith without action is "dead" and "useless." (James 2:17-20) When the apostle Paul was literally knocked down by the Truth, Jesus told him to get up and "go into Damascus. There you will be told all that you have been assigned to do." (Acts 22:10) The apostle Peter cautions us against being "ineffective and unproductive." (2 Peter 1:5-8)
 So, what are we to produce? According to Jesus himself, disciples: "Therefore go and make disciples of all nations, baptizing them in the name of the Father and of the Son and of the Holy Spirit, and teaching them to obey everything I have commanded you." (Matthew 28:19,20a)
Today in America, Christianity often looks more like a spectator activity. Once or twice a week, members go to be entertained by lovely music, receive personal inspiration, and visit with congregational families, as if that were the entire purpose of being a Christian. Not only are we not supposed to be spectators, Matthew sharply warns us not to turn our faith into performance for spectators. "Be careful not to practice your righteousness in front of others to be seen by them. If you do, you will have no reward from your Father in heaven." (Matthew 6:1) What is the purpose of your faith?
"For we are God's workmanship, created in Christ Jesus to do good works, which God prepared in advance for us to do" Ephesians 2:10